Reading
How we teach reading
A love of reading makes a big difference in children's future attainment. At Westfield, all pupils from Reception to Year 6 are encouraged to develop an enjoyment of reading and books.
Children are taught reading skills through a programme of synthetic phonics, work to memorise key words, and reading a range of high quality books to develop an interest in stories and non-fiction texts.
As well as good decoding skills, good readers are able to ask questions to check their own understanding. From Year 1 on wards, children are taught individually, in small groups (guided reading) and as a class to develop these comprehensions skills.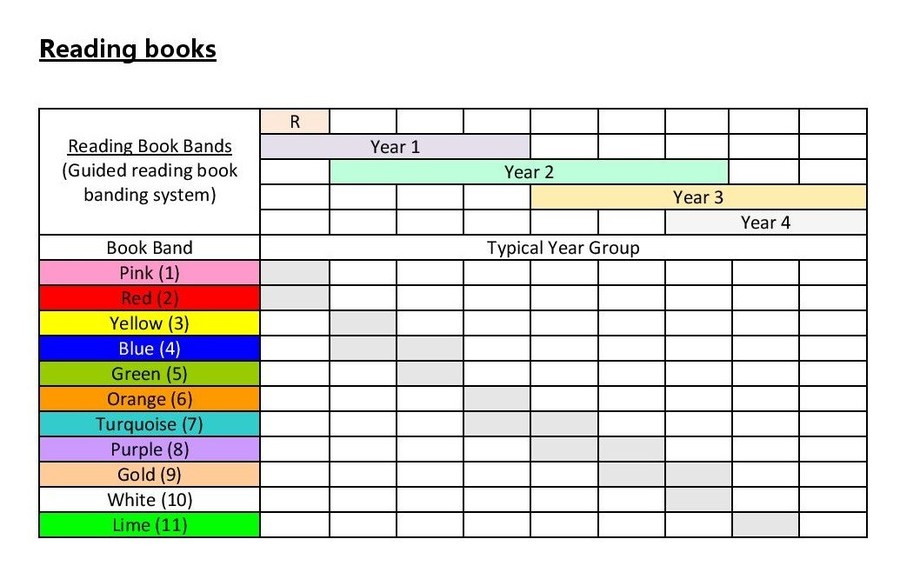 Early Years/Key Stage 1

All pupils have a personal reader (at the book band that they are currently working at – see above table) and a school library book (for sharing with an adult at home).
Key Stage 2
All pupils have a banded personal reader and a school library book.
Pupils who are working beyond these levels will progress onto the KS2 star bandings…
There are 3 bands of reading levels – your child will be aware of the band that they should be reading.
Stage 1 Turquoise star
Stage 2 Purple star
Stage 3 Gold star
If you have any concerns over your child's current book band, please discuss this with their class teacher.
Home Reading
If children read at home, they are more likely to be successful learners at school. At Westfield, we encourage children to read everyday at home and expect reading diaries to be checked and signed by a parent/carer every night.
How you can help at home
Early Years/Key Stage 1
Ensure that you set aside a quiet time every night to spend time looking at your children's books.
Make reading a very positive and enjoyable experience through lots of praise.
Children begin to read using their phonics knowledge which means that they will use sounds rather than say the letter name. If you would like further information on phonics and how you can support your child in this area please see the phonics section on our school website.
Talk about the books that you have read. Being a good reader is more about understanding what you have read than being able to just being able to read the words. Look at the pictures and discuss what is happening, do they like a character, what might happen next, what was their favourite part?
The most important thing you can do is to talk to your child and listen to them when they are talking to you. Try to extend their vocabulary range and their skill at talking in increasingly more complex sentences. For example, try to teach them alternative words for ideas, or nouns they already know.
Key Stage 2
Your child may now be a fluent reader and prefer to do their reading independently, however it is still important that they are encouraged to discuss what they have read.
You can help keep your child's comprehension skills up to speed by asking lots of where / how / what / when questions about facts in the book. Children also need to develop their inference and deduction skills - these can be developed through the use of questioning E.g. How do you think this character is feeling? What might happen next?
Give your child plenty of praise for demonstrating dedication to reading and answering comprehension questions.